WhatsApp Based Mulyankan STD 3 to 10 WhatsApp Exam BY SSA
What are the main features of WhatsApp?
Texts. Simple, reliable messages. Message free message to your friends and family *. ...
WhatsApp on web and desktop. Continue the conversation. ...
WHATSAPP voice and video calls. Speak freely. ...
Documents. Simplified document sharing.
What is WhatsApp and what about its features?
WhatsApp TSAP Messenger app for smartphones is free to download. WhatsApp uses the Internet to send messages, images, audio or video. ... It is popular among teenagers because of features like group chatting, voice messaging and location sharing.
What are the hidden features of WhatsApp?
Format the text to add some verbs to your messages. ...
Your messages disappear. ...
Star a message so it's easy to find later. ...
Clean the storage and see who you talk to the most. ...
See message details. ...
Mute conversation. ...
Hide your last viewed status. ...
Disable read receipts.
What are the new features of WhatsApp?
In this mode, users will be able to send messages in a supernatural way. This means that messages will be sent with the 'see once' condition because once you see them they will disappear from the chat. Mark Zuckerberg has also confirmed that the View will be rolled out to TSAP beta users soon.
As soon as a student types his first name Pratish Reply and sends it, the name of the father and the date of birth of the student will be displayed in the school and as many students as there will be in that class. The order of his name among them will be to ensure it.If the order for the name has been confirmed after confirmation by the student, he / she will have to write in the reply.They will then receive a message that you are registered. From now on you will be able to practice playing here every week. And teachers will be able to cooperate with you better.If you have more than one student from the same household, they will be able to join this registration. And other friends. Meaning this is multi user. Just one He will then be asked to reveal the subject raised last week before the current week.
This subject is decided from here i.e. at the state level. That is what it isStudents will be able to practice the same subject during the week.And the question will ask do you want to practice? 1 reply for yes and 2 replies for no.As soon as the student types 1 reply and is sent, the first question out of 10 questions of that subject will appear on the screen with a greeting message. And four options of answers will also appear.As soon as the student types the number for the answer, another question will appear on the screen. January 20, 2021
In order to help the students from the state level in the epidemic of COVID-19, many programs are run by Shiksha Gandhinagar. According to today's technology
In an age when students are able to operate multiple devices, through the WhatsApp, children can test their own proficiency in their studies and find themselves having difficulty in their field through their own practice and need to do more rehearsals at which point of the chapter. He may even know. For this, a weekly practice (self-assessment) based on WhatsApp has been organized.
Please provide this information to all students in all schools in your district through their school.

Is. If the student saves this number and just writes HELLO, he will get Quick REPLAY. Thus Quick REPLAY is their distinguishing feature throughout the process.Students will get Quick REPLAY if they just type HELLO.Thanks for joining the HOME LEARNING program.Study will not stop now. Please school U.S.Write and send the dice code.The details of the school will be sent as soon as the student's U-Dice code of the school is written and sent.In which the name of the school, dice code, taluka, district and also 1 reply for yes will be typed and sent.And if there is wrong information, type 2 replies and send.As soon as the student types 1 reply and sends it, he will ask them to select the standard. In which the student has to state his standard. What is the first name of the student as soon as the student states his standard? It will ask for details only in English alphabet and child tracking (according to Aadhaar Enabled Dias).
WhatsApp based weekly exam for std 3 To 12
Ahmedabad, Anand, Dahod, Gandhinagar, Kheda, Mahisagar, Panchmahal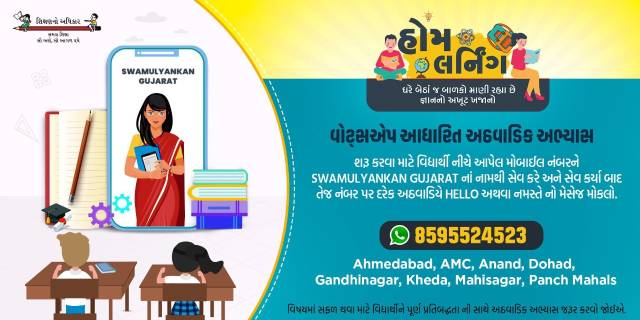 WhatsApp Direct Link – Chat on WhatsApp with 8595524523
Banaskantha, Kutchchh, Mahesana, Patan, Aravalli, Sabarkantha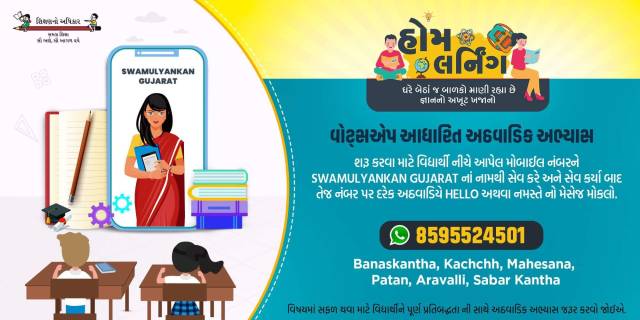 WhatsApp Direct Link – Chat on WhatsApp with 918595524501
Amreli, Bhavnagar, Botad, Devbhoomi Dwarka, Gir Somnath, Junagadh, Jamnagar, Morbi, Porbandar, Rajkot, Surendranagar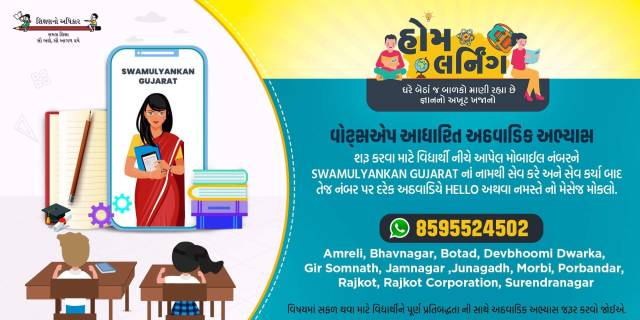 WhatsApp Direct Link – Chat on WhatsApp with 918595524502
Bharuch, Chhotaudaipur, Narmada, Navsari, Surat, Tapi, Dang, Vadodara, and Valsad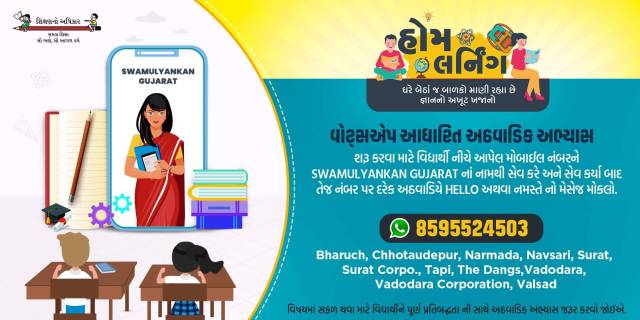 WhatsApp Direct Link – Chat on WhatsApp with 91859552450